UC Davis's Solar Decathlon 2015 Entry "Aggie Sol"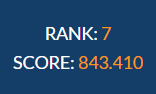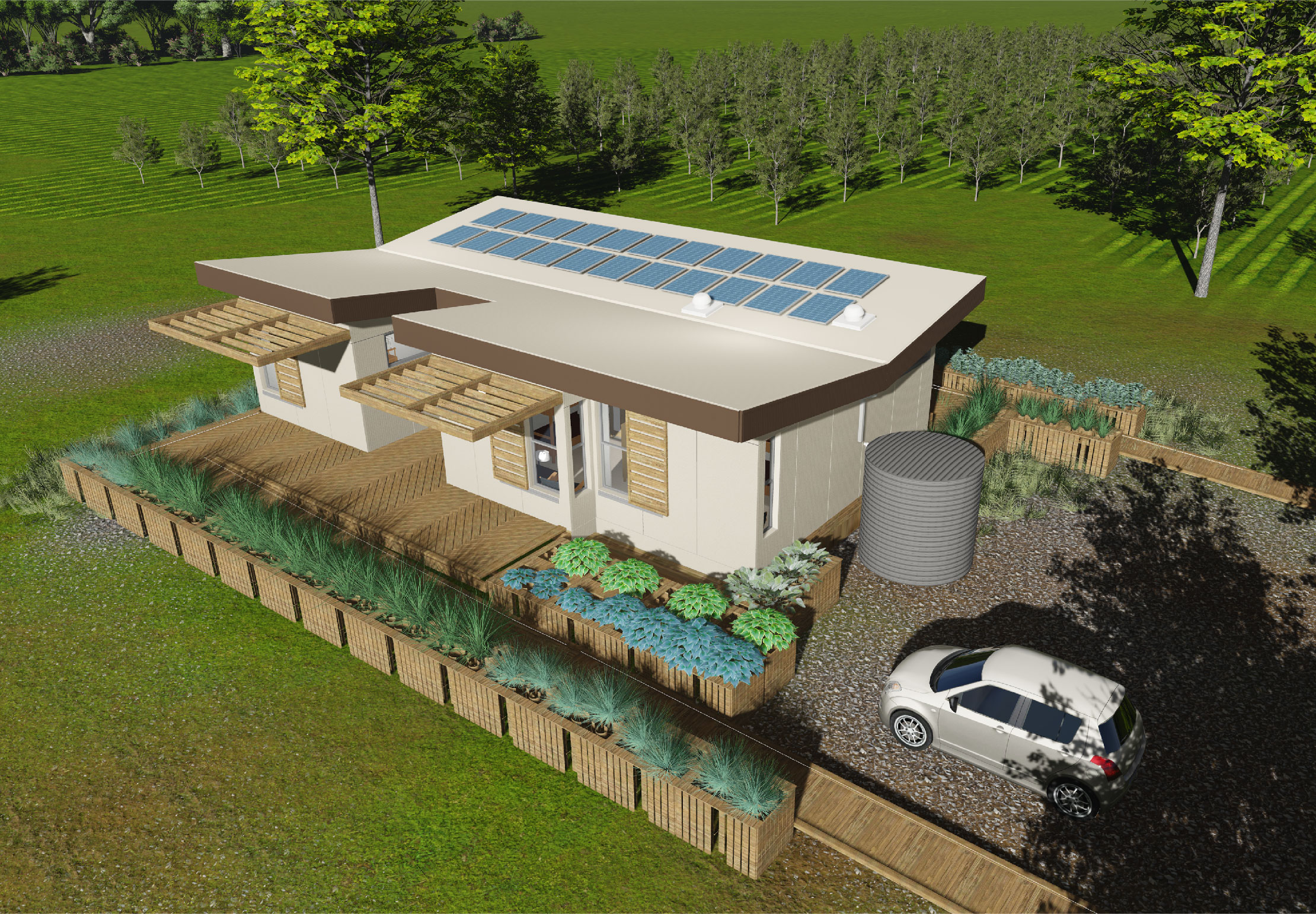 Deliberate
In the United States, over one million people are working as farm laborers, and with 12% of all U.S. agricultural exports coming out of California, it is clear that many of these farm workers are here in our own backyard. These workers are often living in deplorable conditions, with no plumbing, no temperature control, and extreme overcrowding due to their inability to afford anything better. Concerned and aware of this problem, our team at the University of California, Davis has found a way to bring together sustainable living and the goal of a zero net energy home as a deliberate solution to this local and national problem.
Our team sees the necessity to advance the quality of homes in this segment of the market to promote the quality of life for low-income groups.
Designed with farm-workers in mind, the spatial design accommodates large gatherings and promotes a clean living space. A second entryway was deliberately added to the home, creating a cleansing room in the process. Here, farm-workers can remove shoes and clothing contaminated with unwanted dirt or work-related debris. They may utilize the shower and double-sided lockers to receive fresh clothing to be completely cleansed of the day before entering the rest of their home. This design ensures that occupants can keep themselves and their living environment clean and healthy. The home is significantly more affordable than comparable homes on the market, and its' integrated, sustainable technologies help ensure that daily living, heating, cooling, as well power and water costs are kept at a minimum. All of this directly answers the call for good housing at a low-income family affordable price. The project planned by UC Davis therefore seeks to advance not only worker health and life, but also California's leadership in zero-net construction.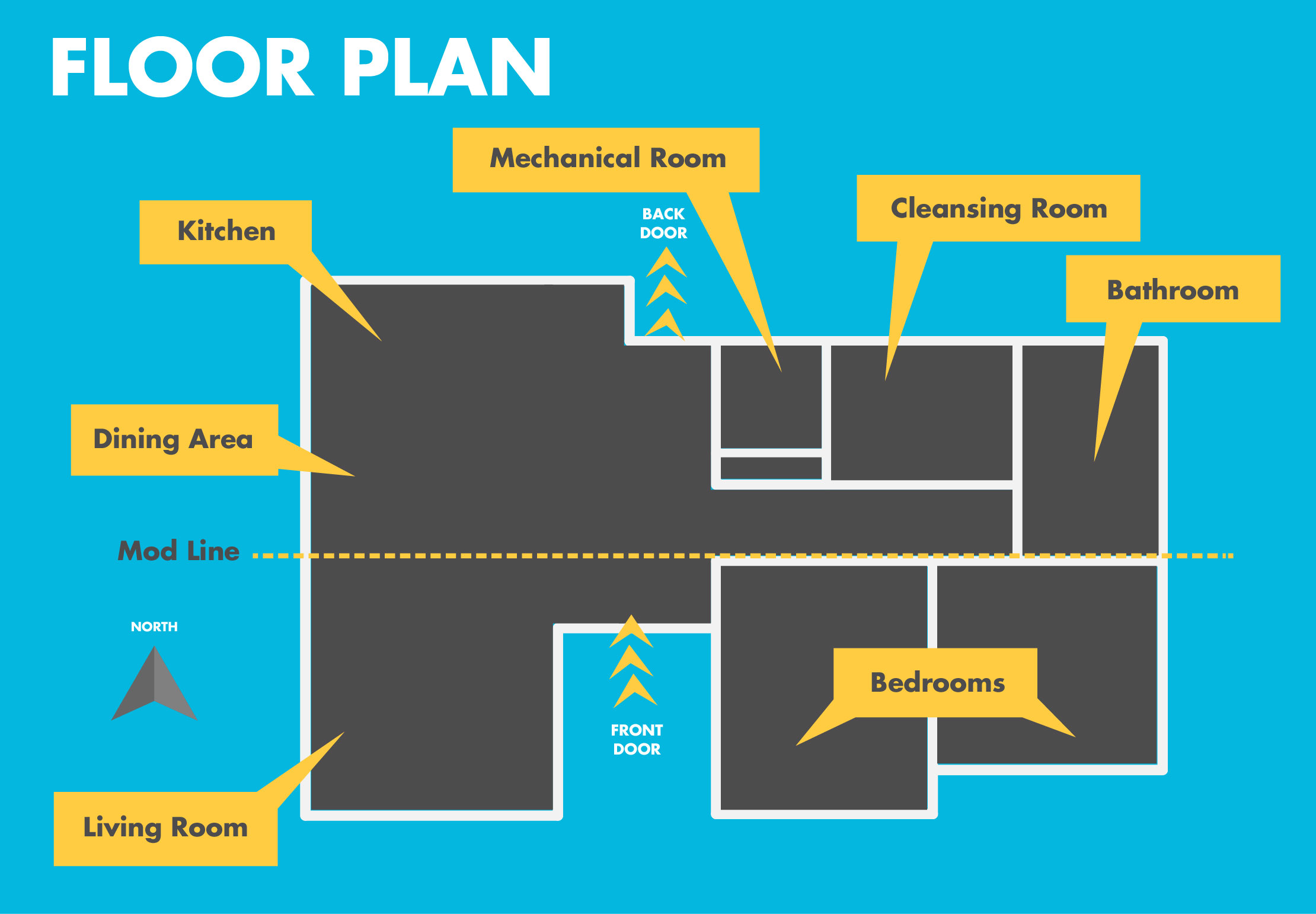 Target Audience
Agricultural Farm Workers on the West Coast
Mission Statement
The primary principle that guides the Aggie Sol Engineering Team's design is to merge both sustainability and affordability. Our engineers are striving to create a solar-powered zero-net energy house that is affordable for everyone. We want to create a new model of sustainable affordable homes to replace the inefficient grid-dependent houses that currently dominate the market.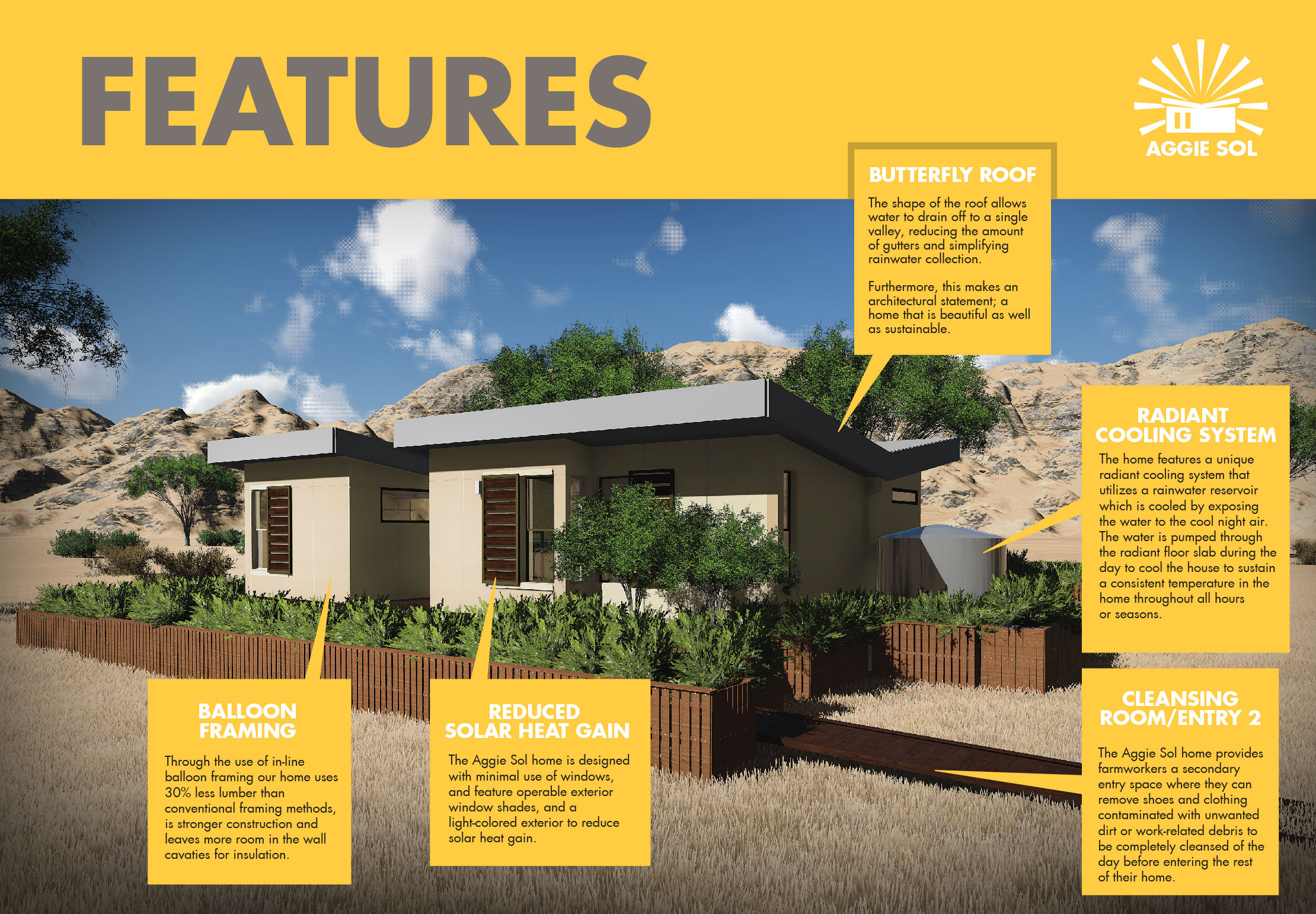 Affordable
One of our team's primary goals was to build a sustainable home at a cost lower than any produced before by our university. We accomplished just that. Our team has designed a zero-net-energy home that will serve workers at a price that public and private housing providers can afford. In our mission to develop sustainable housing at the lowest possible price, we have incorporated low-cost energy-efficient technologies pioneered by the cutting-edge research from UC Davis. While these technologies can make well-designed ZNE housing available to communities of all income levels, they also keep daily powering and water costs at a minimum, meaning continues savings for any and all residents. Affordability permeates every part of our design. Lumber and other materials were locally sourced, and the design ensures low shipping and construction costs. By using a double wide, factory-built home divided into Northern and Southern halves, the Aggie Sol home can be constructed and transported quickly and cost-effectively. The halves are then reconnected on site in order to have a livable home in a matter of days after delivery. This translates to an even lower cost for consumers. By keeping our goal of affordability in mind through every part of our design and construction process, Team Aggie Sol home is making it possible for low-income communities to live in a high scale, beautiful home that they can afford, as well as bridging a gap between high initial costs and sustainable living that has long existed.
Sustainable
Reduced Solar Heat Gain Design— The Aggie Sol home is designed with two climate-controlled living spaces, separated by an unconditioned, enclosed deck, creating three distinct spaces. These three zones act as climate buffers that maximize passive cooling in summer and passive heating in winter. The unit as a whole acts as a system of active and passive techniques of energy efficiency. In addition, the home is designed with minimal use of windows, and features operable exterior window shades, along with a light-colored exterior to reduce solar heat gain. This passive design technique reduces the cooling loads on the house through good design.
Radiant System
The Aggie Sol home features a unique radiant cooling and heating system that leverages the geographical features of the West coast of North America. The solution utilizes a large rainwater reservoir which is cooled by exposing the water to the air during the during the chill night hours through a sprinkler system on the roof. This chilled water is then filtered and pumped through the radiant floor slab during the day to cool the house. Additionally, small quantities of the water can heated to provide radiant heating in cooler months or nights, sustaining a consistent temperature in the home throughout all hours or seasons.
Framing, Roof, and Lighting
In-line "Balloon" Framing— Through the use of in-line balloon framing the Aggie Sol home uses 30% less lumber than conventional framing methods, providing us a sustainable advantage in cost, design and materials resource. Our wall cavities have more insulation and less thermal transmittance through the studs. In-line balloon framing makes our home environmentally friendly and efficient, by being built better with fewer materials.
Heat Recovery System
The home uses a specialized heat exchanger to extract energy from domestic grey water to preheat potable water for the domestic supply, recycling the latent energy effectively and quickly. Recovering heat in this manner reduces the primary energy need for hot water in the home, making the process cheaper and more energy efficient.
Butterfly-sloped roof— The shape of the roof allows water to drain off to a single valley, reducing the amount of gutters and simplifying rainwater collection.